I wasn't popular in high school. I wasn't un-popular, but I wasn't popular, per-se. I was
busy
. I was trying to become a dancer and spent every hour of every day trying to achieve that goal. I had friends, but not a ton, and my biggest relief was in attending my 10th and then (pause for throat clearing) my 20th high school reunions to realize that people seemed to genuinely like me. No one thought I was an asshole, at least. After high school, I did a little bit of evaluation on who I chose as friends and what I wanted for my life in friends. I was launched into the dance world, where it was easy to bond with people because of our similar interest, but then when a true test of "who had your back" came up, found that my back was pretty bare. So, I did a make-over on my friendships. I decided to try to be the kind of friend I wanted to have. I have become this- and whether it be good or bad- I am fiercely loyal. I expect that...or rather, I look for that, in my friends. I used to expect it, and have since realized that sometimes I expect too much. So, I've scaled back quite a bit what I expect from my friendships, but I still try to be the friend I want: loyal, trustworthy, fun...not without faults, but at the very least, accountable for the mistakes I do make. This week, there was a stir up in some of my friendships... these are newer friendships that don't have the bonds and strength of the long term friendships I've built; they don't know me, and I don't know them enough to decide: Is it worth it? Is she worth it? I've been having such a "love-fest" with my friends lately, that it all came as a big shock and I'm pretty upset by it. I can only look to my own actions and ask: Am I keeping my 'side of the street clean'? Where I am in my life now, I have to consciously choose where I want to spend my energy. Both of my sons and my husband deserve the majority of that energy. But, I also know what re-fuels me, and that is often time with girlfriends: to laugh, reflect, vent about life, process the "stuff" and hopefully, come back stronger, more rejuvenated and ready to handle all of the stuff that parenting throws at you.
We've been having gorgeous weather here, and it was a great excuse to get outside, do some gardening and let the boys...be boys. It helps keep the little stuff in perspective.
Christian, goofing around: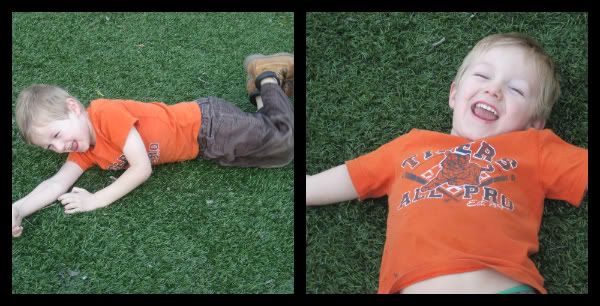 The best part about being a baby- Elijah naps wherever it suits him. The best part is the teeny, tiny foot hanging out of the tent, don't you think??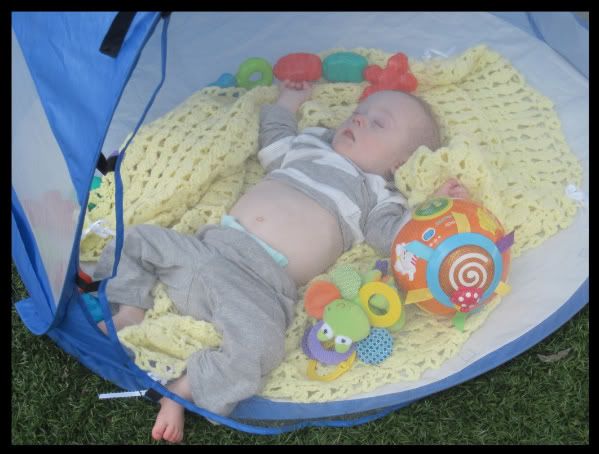 We also celebrated my parents 40th wedding anniversary this week!! It was awesome to see how their marriage has endured 40 years, 4 kids and 5 grandkids (so far). Their marriage and their commitment and perseverance is so admirable. I sincerely hope that one day I can look back and be as proud of my relationship as they should be of theirs. I love you, Mom and Dad, and I am grateful for the example that you set for all of us, and for the love that you radiate between each other and for us. We are truly blessed by you.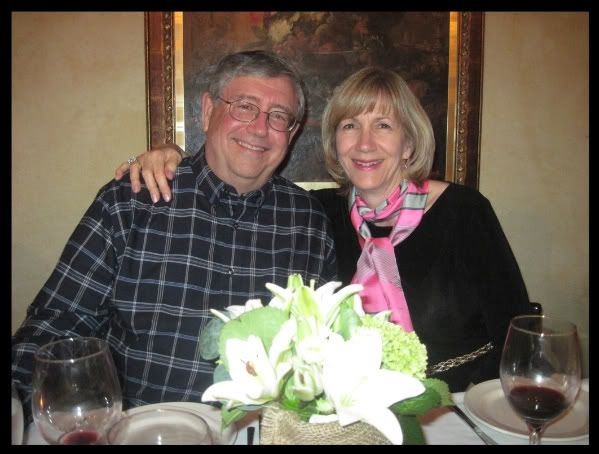 In the big picture of things, a few friendships falling off the map aren't the end of the world, but to me they take note. I come back to the reminder of the saying that "Some friendships are meant to last for a reason, some for a season and some for a lifetime". They all serve a purpose. It is sad to see things moving and changing, but I have to go back to my faith and to trusting that it is all for a higher purpose. God has been making room in my life for a lot of changes. A LOT of changes, this last year, in particular. So, although I let go a little begrudgingly of some fledgling relationships that were perhaps only for a season, I am glad that my family is stuck with me. Ha ha...for better or worse, it's all me. It's not a 'he said, she said'- it is a, "this is me- let's work on it, hope for the best and improve it where necessary" thing. It is life. It is REAL life, and like it or not, it is for the lifetime.