Today was "supposed" to be one of those enjoy and soak-it-all-in days...or so I thought. I finished a culmination of work yesterday: My dance studio's recital and a show I choreographed had it's run of performances. I find myself saying so often: "When I just get through such and such, then things will calm down and I can have a few lazy days..." Yesterday was altogether a really wonderful day- just long. We started the morning at the beach with a group of friends. It was a day we had been looking forward to, since beach trips have really been a highlight this summer. My friend who organized the whole event is so creative and so detail-oriented that you could appreciate all of the small touches that she had arranged: from the multi-colored beach adirondack chairs, to the miniature beach bucket favors (filled with an inflatable beach ball, teeny, tiny sand toys and a bag of Swedish Fish -Aqua Life themed- of course.) Little did she know that Swedish Fish are my all-time favorite candy. Anyone who knows me really well can vouch for this. I won't wax philosophical about a bag of Swedish Fish, but let's put it this way: Christian's bag will mysteriously go missing. Back to the beach. We squeezed the entire family into the mini van, packed with props for the recital, beach towels, beach chairs, sunscreen, snacks for me for a non-stop day, and headed out. The beach was a break from the extreme heat of the valley- but more so than we expected. We ended up with an actual cold beach day (sans sweatshirts), but marveled as the preschoolers splashed and soaked in the freezing ocean anyway. Is their zest for life that much greater than it is as an adult, that they aren't bothered by a little cold weather? Or is it perhaps something more physiological- like children have no temperature gauge? Whatever it was, as we adults sat huddled in our beach blankets (probably offending our hosts), our children had a blast- just as they always do when you combine sand, sea, and kindred spirits.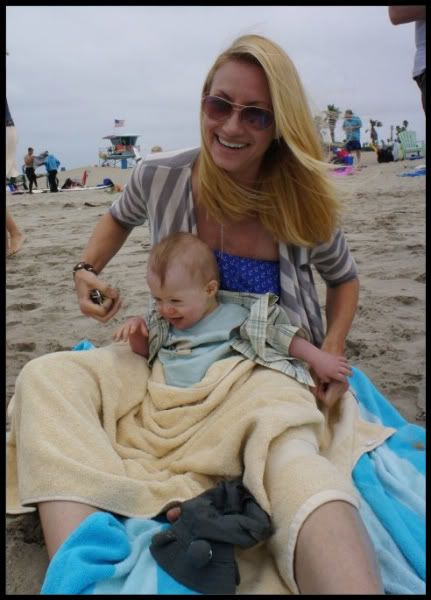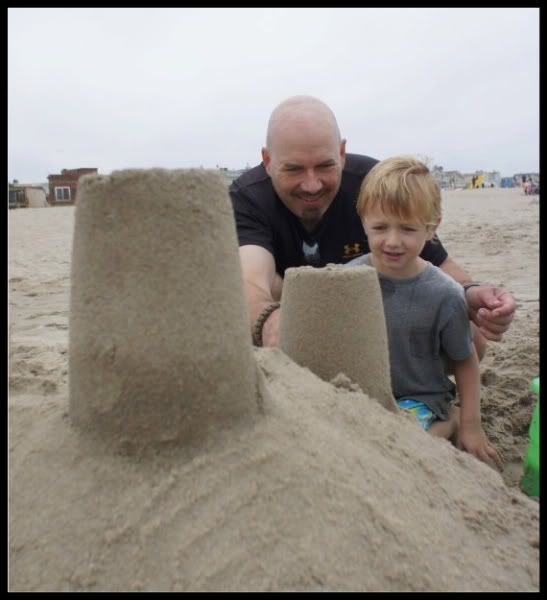 Photos courtesy of Lori Bell Medlin (oxox)
Next, it was on to the recital... I had what seemed like grand ideas about creating ballets for my girls that give them some appreciation of the history of ballet- specifically in regards to storytelling type of ballets. I choreographed my youngest group of girls in matched costumes to the next level up, but only the youngsters had their skirts cut very short, and their head garlands contained only ivy, where their older counterparts had blooming flowers as well. My inspiration was the forest scenes in La Sylphide. While the ballet La Sylphide is quite dark, I focused on the simple idea of forest sylphs living in harmony and growing older in the forest. I tried to signify the coming of age with a small pine tree during the small sylphs scene, and then a much larger (grown up) tree for the older girls. I have no idea if anyone got the subtlety of that, but I do know that I have about a dozen scratches on my arms from hauling fake pine trees around all day. (And if I only had a dollar for every time someone asked, "What are the Christmas Trees for?"
Oh, ye of little imagination. These are not Christmas trees, these are magestic pines that only grow in the forests occupied by Sylphs
... Right.) Remind me about this when I get these big ideas next year.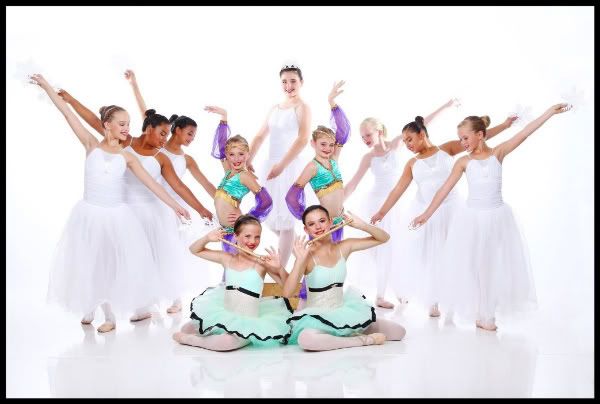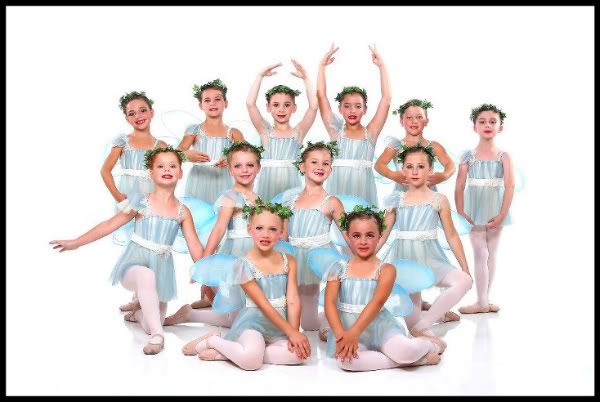 Overall, the recital was a huge success and I thoroughly enjoyed seeing all of the girls' hard work come to life onstage.
Finally, I was off to enjoy the Calabasas Summer theatre's final performance of "A Funny Thing Happened On The Way To The Forum." Sadly, I have no pictures of our cast or production, but it was an enjoyable night. Perhaps because I have taken a few years off from choreographing musicals or perhaps because the show was a no-pressure-choreography type of show, I really had a chance to just sit back and enjoy. I didn't spend time worrying about pointed toes or tight knees. I just enjoyed, and the icing on the cake, is that I got to work with my very talented, director, brother on this one. I heart my brother, Bill. (And also my sister and my other brother- don't get me wrong. We are all very close.) But, Bill and I have common interests. We always have. When I think back to all of the years that I made him dress up in some sort of costume get up and perform "a show" with me, I have to smile. It was a foretelling of what would come. For the last 5 weeks, we've worked together doing what we have always loved: Putting on a show. We are lucky. We are blessed.
I was eagerly anticipating a balance of busy family time, with some me ( read: yoga) time and some time with girlfriends. None of it went as planned. We started the morning at the church where Christian had attended Vacation Bible School (VBS) all week. He had such a great time, and it made my heart swell. Some of my fondest memories as a child were at VBS. Today, was the VBS Sunday, where the kids attended and sang the songs they learned all week for the congregation. My Mom, Dad, and youngest nephew joined me to support Christian's performance, while Charles was, unfortunately, absent due to a work deadline. The scene was set: the kids were arranged on the stage, and the video came up to help assist the kids with the words and the associated dance moves. Christian turned his back to the audience, watched the video screen at the back of the stage and sang nothing...danced nothing. Yep. It was only after he returned to his seat in the pews that he finally decided to sing and dance along. Whatever- he must not have gotten the "performer gene" that Charles and I both possess. Sigh. The day continued as my chance to go to yoga went out the window with no one to watch the kids, and the dinner with girlfriends turned into a dinner with a frantic day care drop off for Christian, and a hungry baby boy in attendance. It was not the lazy dinner with friends I had been looking forward to. But as good friends always do, they made me feel welcome and loved and pumped full of compliments. Thank you friends.
I have another crazy week coming up and I find myself saying, "When this week is done, things should calm down a little and give me some time to be a little lazy..." Oh, how I hope that is true. As a Mom of two, I often find that even the things that are supposed to feel lazy and carefree, tend to feel a little like work. Fulfilling work, but work none-the-less. I have a "lazy
day
few hours" scheduled into this week (babysitter and all) as a coping method. Now, however, I have to get to bed. Early morning trip to the flower mart for me...