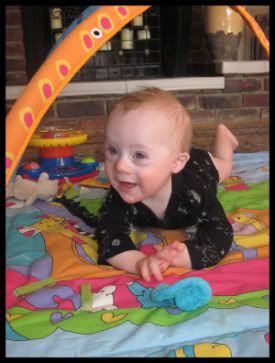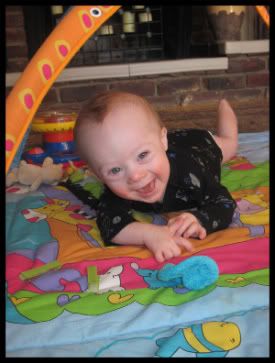 Elijah 9 months
I'm, once again, having a re-shifting and re-focusing of my expectations. I've learned something about me: If I have a general idea or goal in my head, I can tolerate and stick with just about anything to get there, but if that suddenly changes, I'm all in a scramble. For instance, when I was dancing, we would often be given a rehearsal time- let's say that our rehearsal was from 10am-5pm. I could be danced to the limit, pushed to my max, but at 5pm, my body would shut down. If suddenly the choreographer would say, "Can you guys hang for another 15 minutes to just run it a few more times?" I would freak out (not openly, but inside.) It would take all of the inner strength I had to try to muster up the energy and desire to power through 15 more minutes. And it was hard. I was really resistant when it came to things like that. I'm having one of those moments today. Elijah's physical therapist was here this morning and while we were working with her, she was talking about how much flexion there is in Elijah's shoulders. I agreed that I could feel that. Then she said, Yes, well, unfortunately I think he is on the low end of low for muscle tone. He may not walk until closer to 3 years old. He might walk before then. But he might not. It was like a shot to the heart.
When I was still pregnant with Elijah and I was researching what the side effects of Down syndrome were, I saw some charts for developmental milestones. The average for walking was around 24 months old. It was a bit of a shock to realize that it could take Elijah close to a year longer than it did for Christian to walk. I rolled that around in my head for quite awhile and eventually came to terms with it:
Okay. Two years. I can deal with two years.
But now it could take three years?? Three years makes me cry. When I think of all Christian has mastered by three years, Elijah will be so far from that, that he may not even be walking yet. My heart hurts. I'm trying to stay focused on the fact that "He'll get there". I'm reminding myself that muscle tone has nothing to do with cognitive ability and he may be doing a ton of other things even if he isn't walking, but my heart still hurts. So, it's another adjustment of my expectations...to some degree...the fighter in me says,
No. We will work. We will work hard. We will help him to get stronger. After all, he lives in a house with a dancer and a stunt man, right? Plus, even though we have a very experienced PT, she's not God. She can't actually predict the future. She might be right, but she also might be very, very wrong.
And yet, I know I have to adjust my expectations while we do all of that, so that it's not unreasonable or destructive to expect something he just doesn't have any control over.
Once again the word ODDS comes up for me. This word was, and to some degree still is, a huge source of anxiety for me. The odds of having a child with Down syndrome. The odds of said child having a heart defect. An organ defect. Lower than normal muscle tone. Eye problems. Autism. Cancer. ...And that is just a very small portion of the list. So, we beat the odds for a heart defect. Beat the odds for an organ defect. We landed on lower than average tone. Landed on a few eye problems. What more is still unknown... There are odds for everything, but chances are (odds are?) most people don't spend a lot of time thinking about it. It wouldn't necessarily be healthy to be thinking about it. The odds are kind of a crap shoot. However, I think about odds now. A lot. The odds of having a child with Down syndrome is about 1 in 700. It is kind of funny, because every time I have a friend get pregnant and worry about Down syndrome, because of knowing me, I kinda want to say, "You don't have to worry. I only have 503 friends on Face Book, so you're covered." Once I get to 700 friends...then you're on your own.
I'm feeling a little low today. A little discouraged. Although, when I actually look at Elijah's smiling face and see him continually moving forward in progress and milestones, it's hard to get and stay depressed. So, I'm just feeling low.
Maybe I could even say that I'm just feeling on the low end of low right now...