The last few days have been emotional for me. Exactly one year ago, I had taken an amniocentesis test based on the positive results from my AFP blood test, showing a 1 in 10 chance of Down syndrome. I've never prayed more. I've never been more afraid to pray. I was due to host Thanksgiving last year, but between doctors orders for no lifting and an intense desire to sink into a deep, dark hole and never come out, I forfeited my Thanksgiving hosting duties.
This year, I took my turn and offered up our house for the 16 family and friends that were joining us. 16 people, food for an army and enough seating space for everyone poses a daunting challenge with our square footage. However, I got creative, rearranged a lot of furniture and made it work. I was glad to have the focus of preparing a meal and rearranging furniture. When I think back to this same time last year and the initial reactions I had to the
possible
news that Elijah had Down syndrome, I'm kind of sad that I had to grieve that way. I know it was all part of the process, that it wasn't what you ever expect to worry about, yada yada. It's all true. But, looking back now, I'm sad that I shed even one tear over Elijah's life. Elijah's life Rocks. Elijah's life makes me want to be a better person. And Elijah himself? Well...few words can explain the pure love that he radiates. He is perfect. Exactly as he is. Extra chromosome and all. I'm not in denial- I know that it will be weird and challenging and shitty somewhere along the way. I know that watching him fall further and further behind his peers developmentally will occasionally be tough. I know that I will have battles to pick and battles to fight, maybe even more so with him than with Christian. But, I'm not there yet. I'm
Here
. And
Here
is a place of Thankfulness. I am so full of gratitude that my heart swells and my eyes tear up. I'm proud of all of my boys. Today our home and our hearts were filled with laughter, great food (and wine! Wow- thanks for the amazing selection, Dad!) and some crazy, competitive rounds of
Mad Gab
with the most competitive siblings on the planet. (Yeah, and Tricia's Best Friend, Kate, showed that she can seriously hang with this crowd.)
I have a lot to look forward to this weekend. Tomorrow, I am having a date with my little preschooler to go to his first movie in a movie theatre!!! We're going to see Tangled at the El Capitan theatre in Hollywood. I actually did a few shows there back when I was dancing. They usually have some sort of stage show before the movie screens and then the movie itself. Since I still know a few people there, we're going to get a private meet and greet with some of the princesses before the show. I'm so excited to see how Christian takes it all in! Also tomorrow (though I won't see it right away) is the first airing of our episode of HGTV's "
The Outdoor Room
". We were chosen for a makeover on our backyard that happened and filmed around this time last year. I was 5 months pregnant, but wasn't allowed to say as much on the show, because it wasn't "established", so I probably just look fat. Great. Check out our new yard (which went downhill fast, BTW. TV makeovers are a lot of smoke and mirrors, my friends) at 9:30am PST on HGTV tomorrow, November 26th! The most exciting aspect of my weekend is the free time that I'll be able to do anything I want with...No rushing around-Just some hang time with my boys is in order.
I hope you all had a fabulous Thanksgiving- a day in which you were able to reflect on the ways your lives are blessed.
Happy Thanksgiving!!
Jen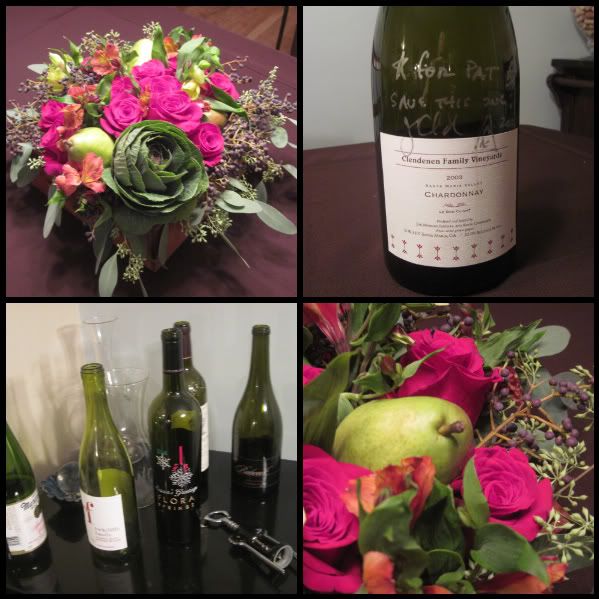 My last minute centerpieces came out great and the wine was worthy of some photos!