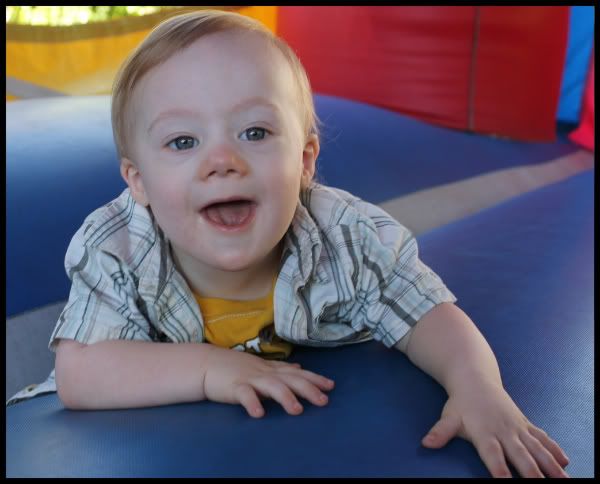 It is that time of the year...the annual "Buddy Walk" to support the Down syndrome Association of Los Angeles is just around the corner! The Down syndrome Association of Los Angeles, or DSALA, is a non profit organization devoted to enhancing the welfare of people with Down syndrome and their families through the development of education, counseling, employment and recreational programs. They are also committed to helping increase public awareness, understanding and acceptance of Down syndrome.
Last year, Elijah was just 7 months old when we participated in the Buddy Walk- not knowing what we were getting ourselves into. We had a small, but mighty, group of close friends and family participate in the walk with us...which is really a slow trot around a track- we might be talking about a quarter of a mile here. Certainly, we're not participating in a physically challenging race. ha ha! (Click
here
to read about our experience at the Buddy Walk last year.) The Buddy Walk this year is coming up on November 13th at the Santa Anita Racetrack and I am beginning the wrangling. Last year we witnessed so many creative and loving ways that families supported and honored their family member with Down syndrome. We saw heartwarming T-shirts, signs, and even a Pirate ship float to carry some adorable little boys!! (Yes- Sarah, if you're reading, I now know it was you. Which is so funny, because I didn't know you then. But, I should have figured that anyone who was going to go to the trouble of making a pirate ship float and wear pirate garb, were my kind of people!!!) So, this year, I've re-vamped our team name. It was formerly "Team Elijah", but this year is "Elijah's Chariots". I kind of liked the multiple implications of the name: In the Bible, Elijah never actually dies. He is escorted into Heaven by chariots. Kinda love that. Then, there is the idea that that our Elijah isn't walking yet. I like the idea that we will be his chariots for the Buddy Walk this year. Double entendre anyone? :)
So, the time is nearing, and while I have visions of a chariot float (Note to self: Add to the Honey-Do list asap...), T-shirts with some "Elijah's Chariots" logo on it and signs bearing my youngest's contagious smile, I need to turn to you-my family, my friends, and my readers (perhaps just a fancy way of saying my friends and family. LOL!) for some help. I have always been the type of person who loves a good cause. Whenever I can, I'm donating to friends' races for Breast Cancer or Wheelchair Missions, Multiple Sclerosis and Sjogren's campaigns. However, until I needed the support and aid of a great cause, I didn't have a true and personal understanding of how much these non-profit organizations can do. Now that I do, I am putting my heart into it. I am asking anyone who reads this to consider putting your heart into it also. If you are moved, consider clicking on this link and donating a small token to aid a great and worthy organization:
http://buddywalk.kintera.org/faf/donorReg/donorPledge.asp?ievent=487077&lis=0&kntae487077=D95D291532A1402AB196A7E6DE0A3C7A
If you are interested in joining our team and participating in the walk with us, we will welcome you with open arms. Email me if you're interested and I haven't already given you a hard pitch. :)
P.S. Chariot and Chariot themed ideas welcome! Come on...You know a Party-Planner-by-trade-Mommy isn't going to go all subtle on you now, right??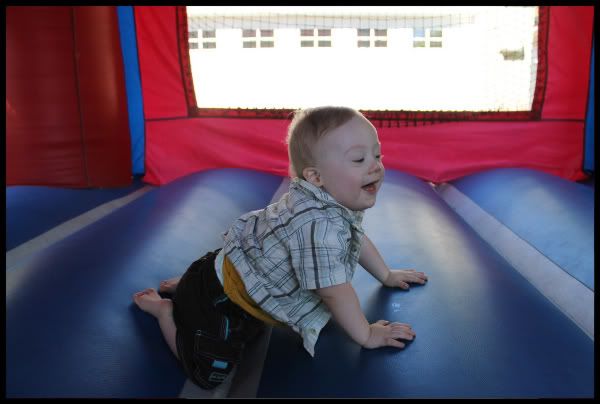 New tricks: Frequent popping up onto his knees; Loving the bounce house