Goodbye "Hunting Coat Red" and Hello "Glacier Blue"!! There is something about a freshly painted color that breathes new life into a home and inspires me to de-clutter, both in the home and personally. Our living room got a long awaited update. I have been craving a change in our house since before I was pregnant with Elijah, but never got the chance to jump into one before the news of my pregnancy. So I vowed that for my summer project I would paint over the red walls and re-cover the dining room chairs. In keeping with my tendency to procrastinate, I realized that summer is over and I start back to work and Christian starts preschool next week, so I'd better get on it!
We've loved our red walls, but it was time to say goodbye! Here is an old photo (since I was too hasty in getting started and didn't get any official before photos) of the dessert table I did for Christian's 2nd Birthday (The "Elmo Chic" party...that's chic, like sh-eek, not chick) and then a cheesy photo of me from Christmas time last year where you can get a sense of the red:
The last of the red, mid-makeover: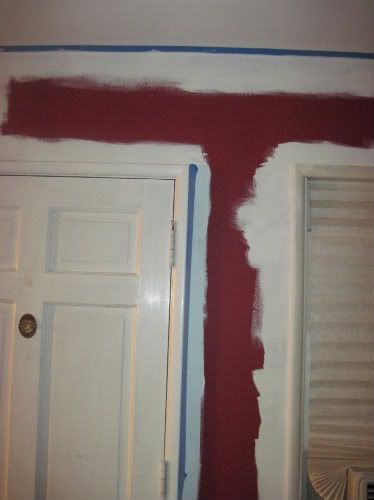 The sad, sad, I-was-in-denial-about-how-gross-these-had-gotten chairs,
Before
: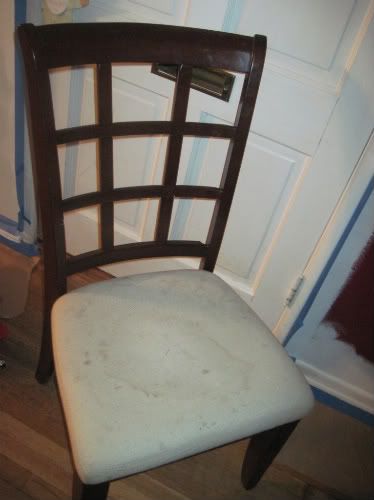 And NOW....for the good stuff...
The
After
:
(My nature inspired apothecary jars- corks, shells, and moss!):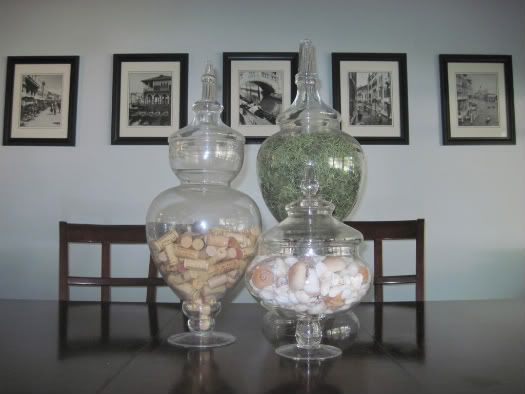 The chairs have new life!!! And thanks to Joann Fabrics 50% off sale, it cost me less than $50 to do all 6 chairs! (I love a good bargain!):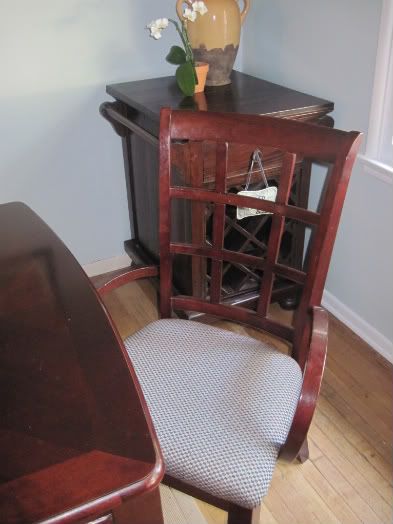 There is so much more light in the living room and dining room now, and it even seems bigger. It is still a strange adjustment since we've lived with the red for so long, but it's an adjustment I'm loving to embrace. Thanks to my mini makeover, I'm feeling ready to focus on de-cluttering the junk in my life...anything that drains my energy is going to be minimized or eliminated altogether, if possible. Life is too short. I spent a lot of my life on wasteful, dramatic people and situations and I'm re-committing myself to making sure that my energy is spent where it is being replenished.
Regional Center.
Sigh.
Okay, so I am getting the crash course on being an advocate for my son. Our regional center coordinator finally returned to work, to a voice mail full of messages and an inbox of emails from me. He actually did return my calls fairly quickly, which was a relief. He asked me to give it to him straight. So, I told him that while the Child Development Specialist (CDS) was very kind, she had told me multiple times that she had not worked with babies as young as Elijah, that she did not know much (or anything, it seems...) about Down syndrome and that I thought we might not be on the right track for helping Elijah reach his milestones. He said he was going to talk to our CDS's supervisor and would get back to me. Within the hour, I had a voice message from Linda, the CDS's supervisor. I ended up talking to her for over an hour and she assured me that Susan (our CDS) had worked with many, many babies (a "miscommunication she said. That Susan simply meant that they didn't normally get referrals for babies this young through
Regional Center
, but that didn't mean she didn't work with babies that young in
general
. ?? Which still doesn't totally add up, because when I asked Susan how old the babies are that she normally works with, she said 5 and a half to 6 months, and didn't clarify anything additionally.) To the Down syndrome experience, she said that not everyone can be specialists in all areas and developmental delays, and that if there is something Susan does not know, it will be her job to get informed and help us in that area. Okay. I don't need an expert on Down syndrome, but I would feel more comfortable if we were working with someone who acted like she knew more than
me
. Lastly, Linda confirmed that the only services we have been recommended for right now, is once a week with the Child Development Specialist...no OT or PT. Apparently the CDS will reassess Elijah at the 6 month mark and make recommendations at that time for any additional services. She told me that OT is only recommended if there are feeding issues, (which, Thank God, Elijah does not have. He is nursing and eating well) digestive problems (again, no...he rarely even spits up), or tracking issues. Now, Elijah does have some tracking issues, but because he is so young, they want to wait to see if it is just a developmental delay (it is improving) or if he receives a recommendation from the Pediatric Opthamologist (who we see at the end of the month). As far as PT goes, they never recommend it before 6 months anymore unless
Torticollis
is involved. What concerns me most, is whether the Regional Center is making recommendations on what Elijah needs most, or whether they can save some money by delaying his therapies. I had to do a little bit of back-pedaling so that Susan does not get in trouble and had to make sure that I was clear that my grievance was with the recommendation and not the specialist. However, I have decided to give it a month's time to see what Susan helps us with. Linda assured me that Susan can help with basic tummy time exercises to help strengthen Eli's neck and upper back muscles, and she will recommend additional therapies as soon as they become necessary. We'll see. I had an opportunity to talk to an Occupational Therapist last week. She is a friend of a friend and she gave me an invaluable amount of information. It truly helped in dealing with the RC coordinator and even Linda. I'm still a little bit uneasy, but since Elijah is hitting more milestones, I'm okay to sit with this for a little bit.
There is one additional small issue I have, that I'm considering addressing: Throughout my conversation with Linda, she kept referring to babies
with
Down syndrome as "Downs Babies" and even us as "Downs Families"...apparently we have Down syndrome now too... It doesn't bug me so much from friends and family who just don't realize the difference, but coming from someone who works regularly with special needs, you would think they would be sensitive to the language. The DSALA included a great flyer in their New Parent Handbook called "How do I talk about Down syndrome? A Language guide for Family, Friends and Others" and I'm thinking about sending her a copy. Some of the highlights from the flyer that I think are so well put include this list of poor word choices:
A Down(s)
- A person with Down syndrome is not the disability. There are many other things that should, and do, define a person. It is dehumanizing and strips people of dignity when they are referred to as their disability. Instead of saying "He is a
Down's baby
" or "She is Downs", try "He or she
Has
Down syndrome."
Down syndrome child/baby
- This goes back to referring to the person first, not the disability. This is one of the most common misstatements made and often causes parents to cringe, at least inwardly. (This is where I interject an enthusiastic "True!") For example, we don't say "a diabetes child," or "an asthma person", so eliminating this reference is critical.
Normal Kids
- Please realize that we perceive our children as being pretty normal kids. Comparing them to
normal
children implies that a child with Down syndrome is something less than normal. Try using, "Typically developing" or "non-disabled child".
"They" as in "they are so loving: they are always happy"
- Don't generalize about people with Down syndrome. "They" are not all alike. Much like non-disabled children, kids with Down syndrome have a full range of emotions and will mature and grow into adulthood.
"How mild/severe is it?"
- A person either has Down syndrome or they do not. Down syndrome is not an illness. Having Down syndrome does not mean a person is sick.
Suffers from/Afflicted with Down syndrome
- Our children are not
suffering
or
afflicted
. We must instill a great sense of pride and self-esteem in all children, so our language must show that Down syndrome is not harmful or terrible, or anything to be ashamed of.
Yes, I once thought a "Rose is a rose by any other name", but it turns out that words really do convey power, intention and meaning. It seems worth getting it right. I'm going to start by handing Susan (our CDS) a copy of the flyer, and by gently telling her that I found the flyer helpful in using sensitive language. (She also has been using most of the terms listed above .) I may suggest she share it with her co-workers, or perhaps I'll send a copy directly to Linda. (I think Linda's strong New York accent made the incorrect terms that much more grating.)
And NOW....for the amazing Elijah's new tricks...He's rolling!!! Here is a video from yesterday - since then he has decided to declare his major in rolling...with a minor in cuteness.
The rolling is wonderful, with one exception: He likes to sleep on his tummy and comforts easily while there, but then rolls right onto his back and is stuck. But, apparently the fun of rolling outweighs the comfort of belly-sleeping. Hopefully he'll get the hang of rolling the other direction soon so he's not perpetually frustrated. The other milestone that he's gotten the hang of, is reaching for toys. At first I thought it was just a fluke that I saw him holding onto a toy from his playmat gym, but sure enough I've been witnessing him reach out...the toy bounces out of reach over and over again, and then finally...success! It must be so frustrating: you see what you want... you reach for it...it moves just out of reach...you try again and hit it, but can't grab it before it swings out of reach again...It's hard work being a baby!
I'm jumping into the world of Down syndrome these days and hoping that some involvement will be a positive thing for me and my family and that maybe, in some small way, we can make a contribution to something that effects us so personally. I recently wrote a post about Ds research. While I'm glad that I don't have to make any decisions about treatments yet, I do support the research that could help the late in life neurological decline that comes with Ds, as well as in improved ability for speech and memory. I've been asked to be a part of the committee for the DSRTF (Down syndrome Research & Treatment Foundation) and I gladly accepted. They are putting together a fundraising event (right up my alley) so I'm excited to be of assistance. Also, next Saturday is the New Families BBQ hosted by the DSALA (Down syndrome Association of Los Angeles) and I'm excited to meet families we haven't yet met, and spend some time with those we are getting to know. It is being held at Gail Williamson's house, who is the President of the DSALA, and the one who hooked me up with the photoshoots for the new DSALA materials as well as the "Down with You" book (Which is out now! I haven't seen it yet, but hear it's amazing. You can order a copy
here
.) Lastly, I'm gathering information and preparing to start a team for
The Buddy Walk L.A.
If you live locally, I hope you'll consider being part of my team to raise money for ongoing programs and support for families touched by Down syndrome! (There will be live music, pony rides, games, crafts...and DISCO (?!) I plan on dusting off some of the ole disco moves I learned in my disco classes circa 1981. Oh yeah..watch out!) All team members get a t-shirt and the satisfaction of doing something for a good cause! Plus, you can help me think up a rockin' name for our team! Suggestions??
That's all for now...seriously? could there be any more? I've gone on and on, but it was a busy week!