My husband and I consider ourselves kind of "foodies"- we love to cook and eat, and despite functioning on mostly moderate means, we manage to derive true enjoyment out of mealtimes. So, we pride ourselves (deserved or otherwise) on the fact that our 3 year old, Christian is a GREAT eater. And I mean,
GREAT
. For instance, tonight, he had roast chicken, Caesar salad (3 helpings) and potatoes with haricot verts...(I realize that Haricot verts are really just
green beans
, but it sounds more exotic that he ate
Haricot Verts
...) So, I digress...He's a GREAT eater, and apparently that now includes
loose change
.
We were in-between a busy social schedule yesterday, and home for a nap before heading off to our last Birthday Party of the day, when I suddenly hear screaming, coughing and hysterical crying coming from Christian's room. I was on the phone with Charles, who was out of town on a job interview in San Francisco, when I hurriedly ran into Christian's room. He is grabbing his throat (though clearly not choking) and screaming, "My coin!!! My coin!! I
NEED
it back! I
NEED
it!!!! I say, "Did you swallow a coin?!!" and he cries, "Yeah...I need it back...I need it!! I yell to Charles on the phone, "He said he swallowed a coin, what do I do??!!" Charles hears (with no thanks to the cell phone reception): "He said
HE
(Eli?) swallowed a coin!" Charles says, "Put your finger down his throat and get it out!" Me: Total confusion...this doesn't sound right...but, okay, "Christian open your mouth!" There is clearly nothing blocking his airway, no coin to reach or grab at. It has been swallowed and is on it's way to being digested. I say to Christian, "What kind of a coin was it?" He cries, "A quarter...I need it back..." I grab a penny, a dime, a nickel and a quarter and put them down in front of him. "Which one did you swallow?" and he points to the quarter. Yup. It's the biggest one possible. Meanwhile, Charles and I get disconnected and a few minutes later I receive a call from the Los Angeles Fire Department, "Yes, Ma'am, your husband called on your behalf and said that your 4 year old needs help." (Charles actually told them more than once, that our 4
month
old, not 4
year
old needs help. But,
I
still don't realize that Charles believes Elijah is choking and in major trouble.) I tell them, "No, everyone's fine. It's my 3 year old that swallowed a quarter, but his airway is not blocked, he is not choking, he's talking and carrying on as though nothing has happened. I am, however, getting ready to put him in the car and take him to the emergency room." There were frantic phone calls to Charles, then my Mom, and the pediatrician, plus a little frantic scrambling for my insurance card which I remembered seeing displaced from my wallet earlier in the week. My Mom drove over to pick up Elijah, so that I only had to bring Christian with me to the ER. We got in the car and headed out. Our conversation sounded something like this: Christian: "Mom, I have a coin in my belly. We need to go to the hostible. We never, never put a coin in there again." Me: "That's right sweetie, we never put anything except for food in our mouths." C: "I didn't eat it, Mom." Me: "You didn't?? But you swallowed the quarter, right?" C: (Pitifully) "Yeaaahh...Dr. Keer gonna git it out. He use a bery, bery long stick and he get it out of my mouth." Me: (Laughing so hard I can barely speak) Well, sweetie, we aren't going to see Dr. Keer (the pediatrician), but maybe a doctor at the hosPITal will get it out." C: "Yeaaahhh...I
need
it back..."
We made our way to the
hostible
hospital and I checked us into the ER. I told the ER nurse at the check in desk, "My son swallowed a quarter." He chuckled, and told us to take a seat in the waiting room. While I stood there, signing us in and holding my 3 year old's hand, a woman was screaming bloody murder from the inside of the double doors we stood next to. Luckily, Christian didn't ask about it and didn't seem too disturbed. I was terribly disturbed, though. This woman sounded like she was being tortured. We took a seat and waited to be called. A stressed-out looking woman came in and sat down next to a man in the waiting room and said, "They are going to give her something to calm her down." It took every ounce of restraint not to ask, "What is wrong with her???" While we waited, the screaming woman grew quiet and about 10 minutes later, we were called back. Christian took my hand and we followed an ER nurse back to a little computer station. Christian started telling him right away, "I have a coin in my belly." The ER nurse said, "You do, huh?" and Christian replied, "Yeah. It's right there (and lifted up his shirt to point at his belly button.) The ER nurse looked at me and said, "If it's just a quarter, it can pass on it's own. The doctors don't like to do surgery to remove something like that, especially since it's not something that has sharp edges or could endanger him. We see this all of the time- pennies, quarters, toy parts. It's up to you, but chances are that it will pass within the next 1-2 days." I said, "Oh really? A quarter is not too big to pass through?" He confirmed that it wasn't, so I decided it wasn't worth putting my son under
anesthesia, if it was just going to pass. So, I explained to Christian that we are going to have to wait until the quarter comes out in his poop and that when we eat something, it goes into our throat, then into our belly and then it comes out as poop. It was a shortened, hopefully preschooler-friendly explanation. We got back on the road and headed out to join my family for my nephew's 13th birthday...
Today, I went back to the little local church that I checked out a few weeks ago. (See
this post
to read about that experience.) The pastor and his wife have a young boy with Down syndrome and the wife, Priscilla, and I have been in touch a couple of times since our first meeting. She called last week to tell me that she'd told her Mom about meeting me and Elijah and her Mom made a blanket for Elijah and wanted to get it to me. I told her I'd meet her at church, and so I left Christian home with Charles (who had gotten in late the night before after the Quarter debacle) and went to church with Elijah. Things looked a little different. For starters, the awful mauve mini blinds had been drawn up to reveal simple, stained glass windows on all sides and the light that came through was bright and golden. Things didn't look dim and dusty, as they had before. The people are so warm, and like in some sort of a small town, people already remembered me, knew my name, knew Elijah's name and even knew that he has Down syndrome. The extreme friendliness caught me off guard just a little. I want so badly to like this church, because it actually has some charming things about it, however...without putting any of these lovely people down, I will just say that
It is not for me
. I stayed and chatted for a little bit, while Elijah flirted and smiled at everyone he met. And when I say
smiled
, I mean
SMILED
- as in a full body experience. Because when he smiles, it's not just his face that lights up, it is his entire body- his feet pull up in joy, his hands come together as though he's about to clap, and he practically glows. We said our goodbyes and took his sweet new blanket home to show Charles and Christian.
The day progressed uneventfully, until about 5pm, when Christian complained of his belly hurting. I said, "Does it hurt like you have poopy?" He said, "Yeah." So, I convinced him to sit on the potty (the small one) while I read him some books. He grunted and groaned a little, but it seemed nothing more than the typical BM. He finished up and got off the potty while I went to retrieve a chopstick from the kitchen. (I have a good luck thing with potties and chopsticks that one day I will... never... blog about, because it definitely breeches the TMI (Too Much Information) category. However, those few very close friends and family members who know the story can appreciate that it was a chopstick I retrieved from the kitchen.) I brought the chopstick back to the potty, stabbed at the ...remnants..and hit pay dirt! I told Christian, "The quarter came out!! It came out!!" He started jumping up and down. (You would think I just announced that we were going to Disneyland!) He said, "It's dirty!" Yeaaahhh.
It's dirty
. All I have to say now, is that if it wasn't obvious how much I love my kids, I think it's pretty cemented now. So, without further a do, or should I say... without further a doo-doo?
(I promise this is sparking clean...)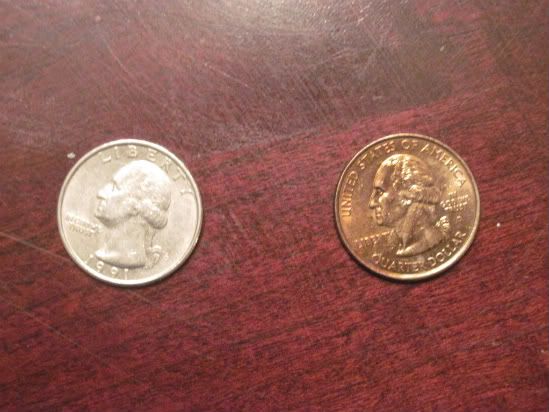 The quarter on the left is a normal quarter. The quarter on the right has been through my son's digestive system. Apparently he has the Midas touch!
My Mom-ness is feeling especially verified after this weekend's "Coin in the belly". I know this happens to other Moms everywhere, right?? If it's happened to you, or something equally embarrassing/challenging/scary-but-worked-out-just-fine thing has happened to you or one of your kids, please leave a comment and share your experience. I know I'm not the only one who has dealt with this...right?
Right???!!