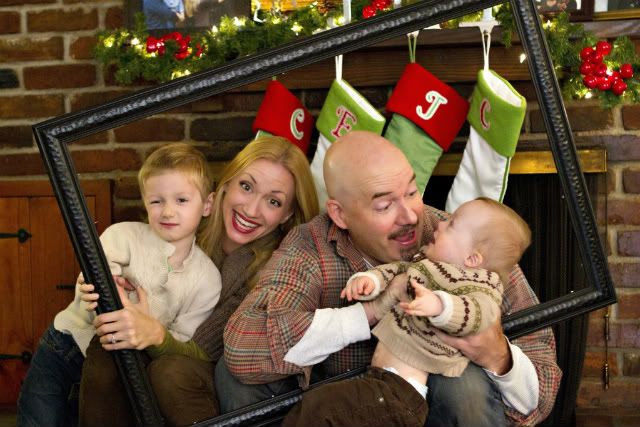 Our holiday cards started going out a few days ago, and it's starting to actually feel like Christmas is on it's way. Work has taken over with abundance the last couple of months, and I've found myself craving time to just "do nothing" with my family. I finally had that chance this weekend! Well..we didn't exactly do
nothing
... I decorated the Christmas tree with Christian on Saturday, which was about as heart warming of an experience as I can recall. Christian was SO excited to decorate the tree and wanted to hang EVERY ornament. We got out the step ladder and let him get to work! I hung all of the cherished, breakable ornaments that I have been collecting since I was 16 years old, and Christian hung all of the non-breakables. (My Aunts started a beautiful tradition many years ago- in lieu of other types of Christmas gifts, they would send my sister and I a Christmas ornament for our future trees. I love these ornaments- I remember who each ornament came from and I look forward with anticipation to unwrapping them from their year's hiatus to place on the tree. It is a tradition I plan to pay forward with my own niece and nephews down the line!) Christian took his job seriously and tried his best to convince me to let him hang even some of the breakable ornaments...
"Please, PLEASE Mommy, I will be weally, WEALLY carful!"
I just couldn't cave though, because despite his very best- most "carful" intentions, ornaments fell like rain as he tried to place them on the tree. (I secretly rearranged a few after he went to sleep that night- I just couldn't entirely bring myself to endure the whole season with a straight row of: crystal icicle, red glitter ball, red glitter ball, red glitter ball, crystal icicle, crystal icicle...)
Elijah- who currently seems happiest if he is throwing something, behaved himself rather nicely with the tree. He takes an interest in it, but hasn't tried getting into mischief about it yet. Fingers crossed that this theme continues and we won't spend Christmas with a baby gate around the tree... But, the biggest news is that Elijah
got his two front teeth
!! Just in time for Christmas!! Just like the song!! Which is why the song is stuck in my head!! And won't come out!! And I taught it to Christian!! And now he won't stop singing it!! :)
I am really excited about the teeth, though. Teeth have been a very slow process with Elijah. It was on that "list" of things that will be delayed due to an extra chromosome, but I was really beginning to wonder. So, I'm sighing a tiny sigh of relief that more teeth are making an appearance and hopefully moving us closer to additional self feeding stages. (We had brunch today and tried to mix some mostly dry pancake pieces in with Elijah's tried-and-true "puffs", but he could not be deceived. He would eat a puff, pick up a pancake piece and chuck it onto the floor, then pick up another puff, and eat away...pancake-floor, puff-mouth, and so on and so forth.)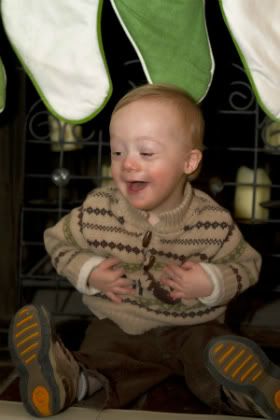 Saturday night saw us celebrating with my dance studio for the annual Holiday party with the competition team. I was curious to see how Elijah would do in a large room full of screaming girls, but he took it all in stride. He flirted where necessary and made himself at home. Christian, of course, immediately found the group of older boys (one of which, he
adores
-James, who is the nephew of our babysitter) and was barely to be seen again. At the end of the night, the girls perform some of their group dances for each other and for the parents. I sat down & put Elijah in my lap even though he was struggling to get away. The music started, the girls began dancing and Elijah was mesmerized. I got teary. I mean, the boy won't watch two seconds of television, but live dancing had him hooked. I couldn't be prouder. He watched 3 straight routines with rapt attention, but by number 4, he was ready to cruise on his own again...well, he is 19 months after all!
This morning (Sunday), we attended a "Brunch with Santa" at my parents' country club. This is, hands down, the biggest perk about my parents actually having a "country club". The brunch is spectacular- The mimosas and coffee are flowing and the food spread is insane- from made-to-order omelettes to an impressive seafood display. And while we are enjoying the over indulgence, Santa and Mrs Claus make an entrance and come around to say "hi" to all of the kids! To be honest, I haven't been sure if Christian is buying our "Santa story". Even on the way to the brunch, Charles was telling some story about the Elves and how they help Santa (mind you, in true Charles form, it was a little... elaborate. Even I was losing the gist.) Christian cut him off mid-story by saying,
"Okay. Sure, guys. Whatever you say."
Charles and I were cracking up, but it was just a little more evidence that
he just wasn't buying it
. But, when Santa and Mrs Claus came over to our table, Christian couldn't have looked more pleased, or comfortable, or convinced. (Unlike our experiences with the forced grins and ridiculously bad portraits with the mall Santas...)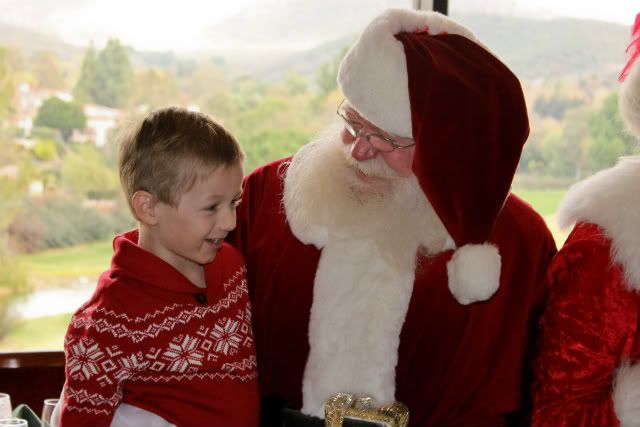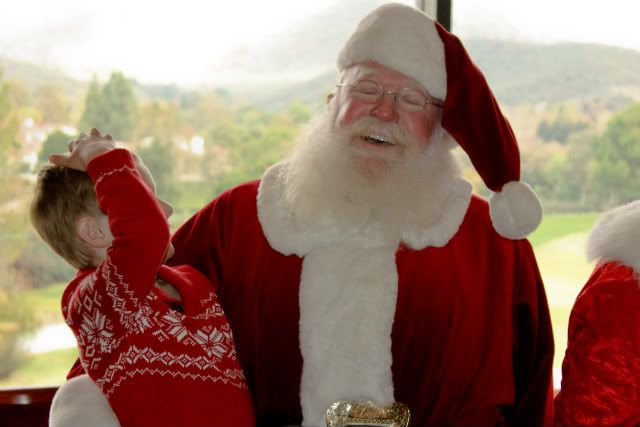 Here, Christian is telling Santa that he is almost as tall as him (as long as he stands on a chair)!!
Later, the kids got their formal picture with Santa and a special surprise: a gift hand-picked for each child! Christian and his cousin Davin got these adorable, life-like (actually, a little freaky-life-like) cats that purr and clean themselves. The good news is, they don't piss or smell, so Christian can keep it! Elijah's experience with Santa was, well, I think the pictures say it best: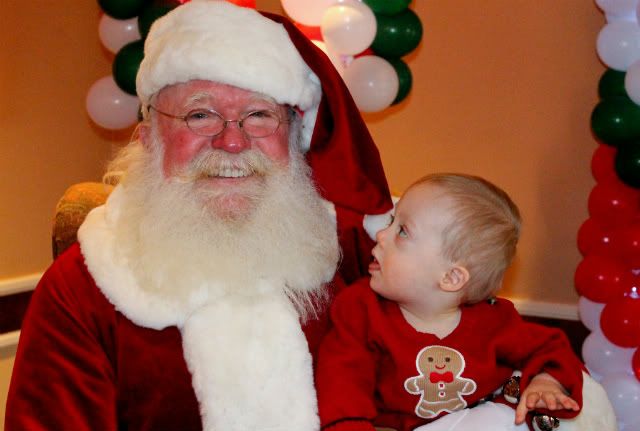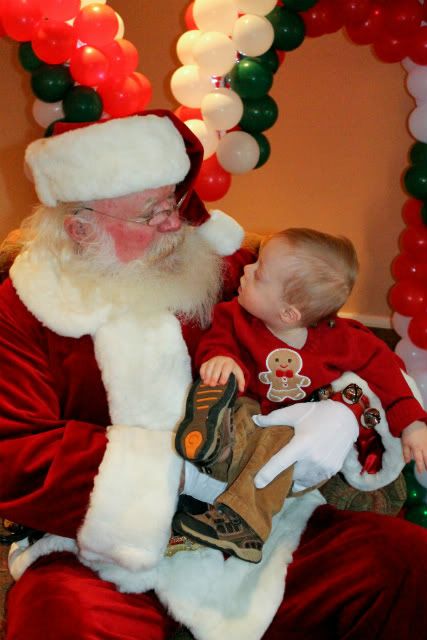 Pure interest. Didn't matter how many times we called Elijah's name or tried to get him to look at us for the photo. He was sitting on Santa's lap and was completely curious:
Who is this strange man in a giant red suit???
"Santa" gave Elijah
a little xylophone. Perhaps, he can learn to tink out the tune to "All I Want for Christmas is my Two Front Teeth"...of course, that might just make the matter worse...
I have so much to look forward to over the next few weeks: a little time off from work, some gatherings with friends and family, more yoga (!) due to said time off, some time for new goal setting
,
and hopefully the time and frame of mind to soak in the holiday moments with my boys. I feel a little more at peace just thinking about it.