I had to immediately
brag
blog. Elijah started pulling to a stand today!!!!! It's been a banner week. It all started with my realization last Monday that Elijah would sit (without immediately crawling out of it) as long as he was sitting on wet grass. So, Monday, Tuesday and Wednesday, we had at least 30 minutes of straight sitting each day (on wet grass). By Thursday, he was sitting anywhere (No grass necessary)-content not to crawl right out of it. But today was a biggee. Today, he started pulling himself up to a stand right in front of my eyes (And our Child Development Specialist's eyes- It was nice to have a witness!!) As long as he had something to give himself a little leverage and with the tiniest of help positioning his feet, he was pulling up!! This afternoon, I was steadying him so he didn't collapse back down, but by TONIGHT, he was standing pretty strongly. Strongly enough, in fact, that I was able to get these pictures: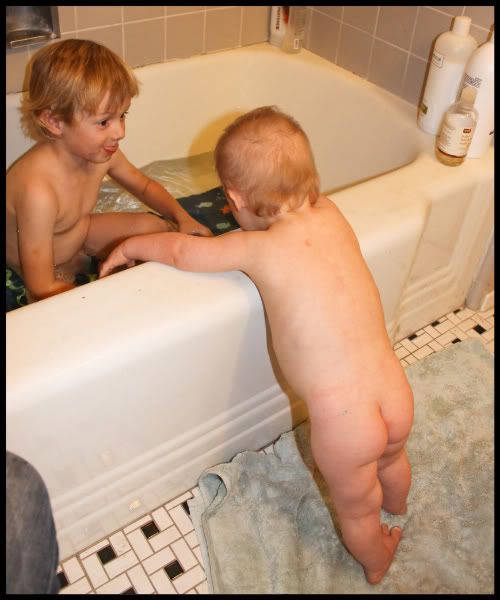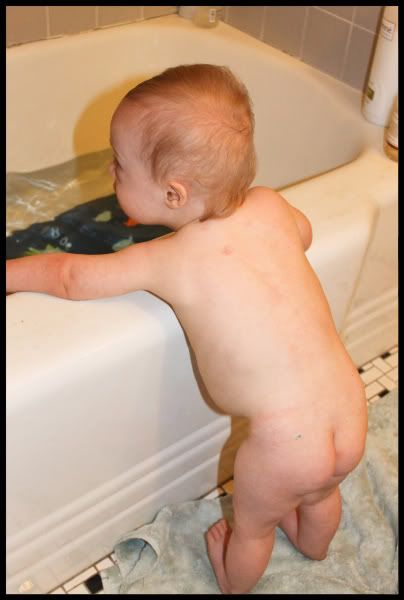 I can't believe it! I'm honestly surprised by how quickly he started moving into this milestone. I knew that even though he wasn't achieving any big milestones for awhile there, that he was gaining strength. That strength is coming through today and with some good motivation (Mommy cheering squad & brother in the bath) he was bound and determined to do his thing.
After Elijah's bath, I got him into PJ's and read him his stories (Tonight, BTW, he pointed to the Puppies and used his little pointer finger to push the buttons that make sounds in one of the books-another little milestone), then put him into bed while I turned my attention to Christian. Christian and I finished up his bedtime routine and came walking into their room to discover that Elijah had pulled himself up onto his knees and was hanging out on the railing of the crib!!!
All. by. himself!!!!! I have been trying to show him how to do this for a little while now. He was always so excited when I would get him into the position where he could see around the room, but tonight he managed it himself! I had trouble getting a good picture of this- in part because of the low lighting, but also because Elijah was bouncing on his knees with excitement. Perhaps a video is better suited for this moment (Don't forget to scroll to the bottom of the page and pause the music player.):
The week was amazing--not only because of the many milestones that Elijah is tackling right now, but also because of the many things happening for Christian now too! First of all, Christian is loving school this year. It is so nice to hear how much he loves it. He even asked on a day off if he could go to school. One day last week when I came to pick him up, he wasn't quite ready to leave and sat down where they do circle time in his class. He sat back on his hands a bit, took a deep sigh and said, "It was a really great day, Mom." My heart melted just a little bit. It was so great to hear that, especially when last year's start was a little rough.
On Friday, I took my first Elementary school tour in preparation for Kindergarten for Christian next year. Our local public school is an under achieving school that is in really sad shape (I'm not referring to it's physical condition, though that is sad too.) So, I'll be having to apply by lottery to local Public Charter schools and by Open Enrollment for other nearby public schools. It's going to be a push to get him in somewhere that I think he might be able to get a decent education. So, I took my first tour. Beside the crocodile tears that were welling up behind my eyes, it went pretty well. There is a lot to think about, and even though it would be easy to shut down over the amount of information I have to get, I feel strongly that I need to stay on track in getting applications in once that process begins. I'm sure there is going to be a lot of nail biting in my future...
Friday afternoon, I took Christian for his first Hip Hop class of the year (He tried it last year, and due to...lack of focus, we had to say nevermind.) This year I had high hopes that a year's worth of maturity would go a long way. Well...we will see. There was still quite a bit of not paying attention, but there was some following of directions...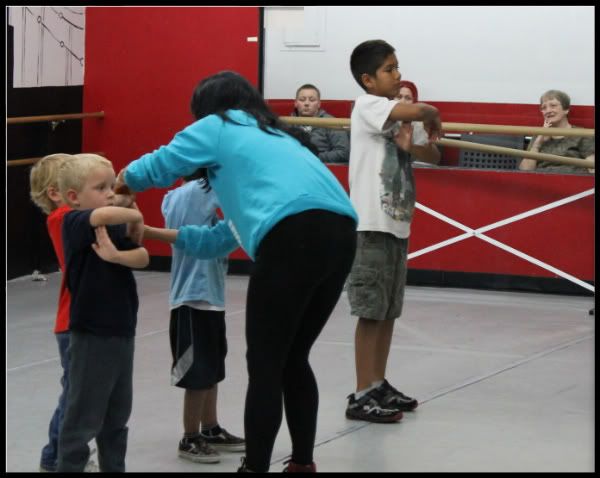 The teacher gave me a wink after class and said that Christian got a sticker and promised he would listen more next week. Gulp. Here's hoping...
The funny thing is, as soon as class was over, I asked Christian to show me some moves and he was happy to accommodate!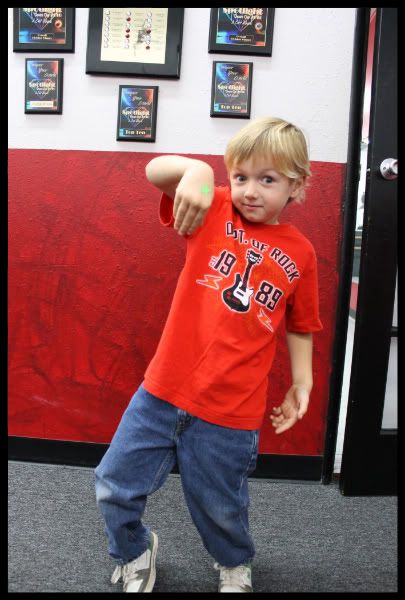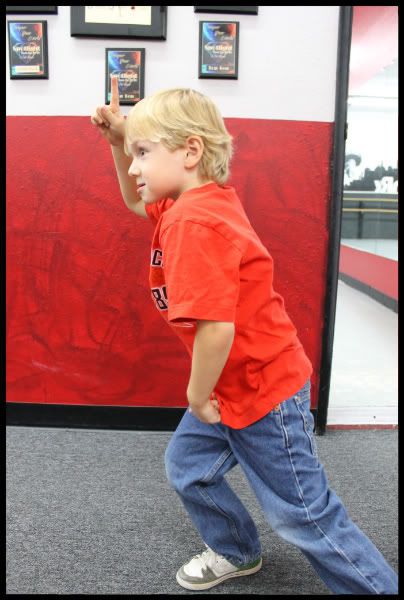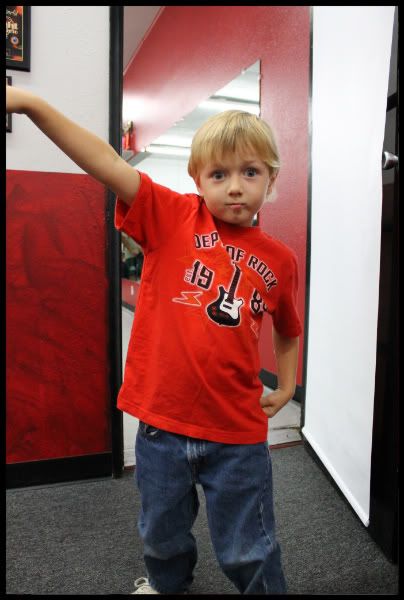 Pretty awesome if you ask me. My boy may not be the most focused in class, but when he applies himself, he's got some Moooves!!