Nothing and everything has been happening around our house lately. The last couple of weeks have actually felt something akin to a summer vacation--which is odd, because I am still working and as busy as ever. However, the ways in which we have been spending our free time seem more luxurious and lazy- taking advantage of all that summer brings with it. We hit the beach for the first time this year (twice in one week!) with a group of friends- sun, sand, yummy picnic lunches, faces filled with unencumbered joy at the sight of the crashing waves and endless opportunities for sand and rock architecture.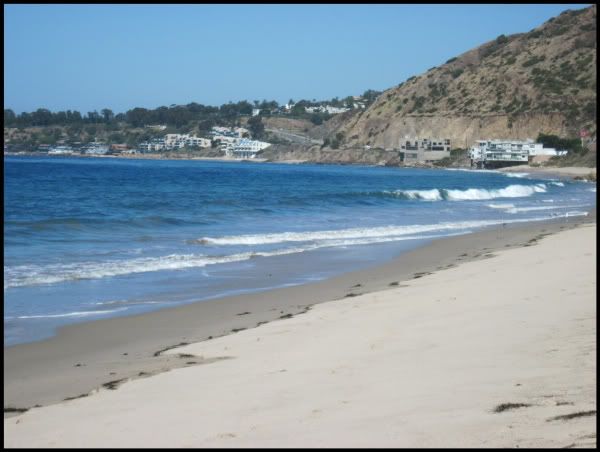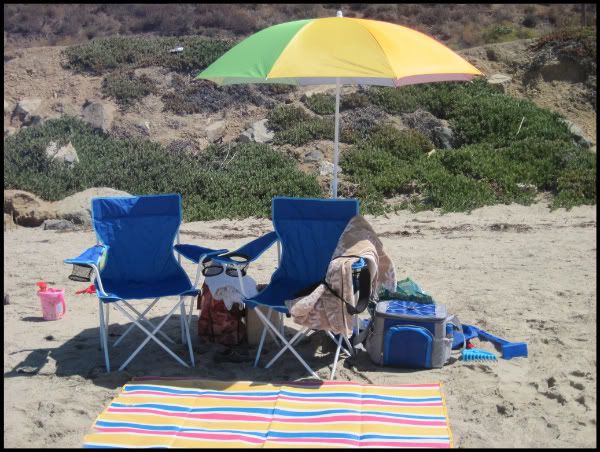 On our first visit to the beach, we were hosted by friends who were renting a beach house in Malibu. We over took the small, private beach in front of the property and I was momentarily mortified to see Charles walk down to the beach with a giant garden shovel. Oh boy... But then, he made his magic...such a big part of why I love him...he got in there with all of the kids and built a giant sand structure. A true sand Castle.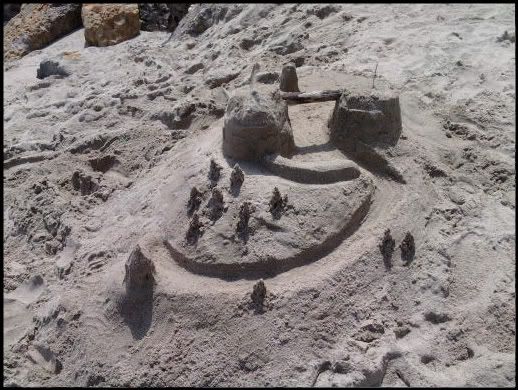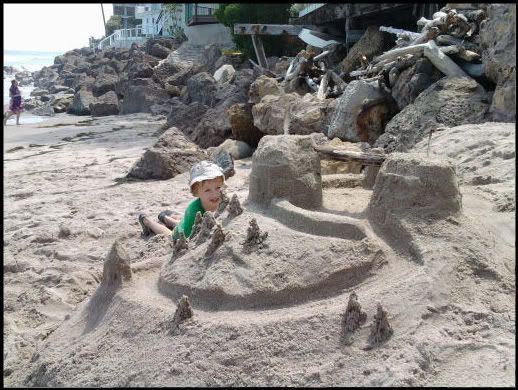 One of the greatest joys and opportunities of becoming a parent is the chance to, in a small way, re-live childhood. The chance to see everything new again from a child's eyes. The chance to show your children the really, really cool things that they haven't ever experienced and seeing firsthand how that experience lands on their faces and imprints onto their hearts. It is a gift, to be sure.
Elijah enjoyed his first beach experience. He didn't mind the sand (even when he face-planted into it), and took the feel of the waves on his feet in stride. After a morning that was already filled with an OT appointment before our beach trip, it was time for his nap. And boy was he ready. ....Nothing like a 2 hour snooze at the beach (in the comfort of his pack and play and the cool air conditioning of our friends' rental property)!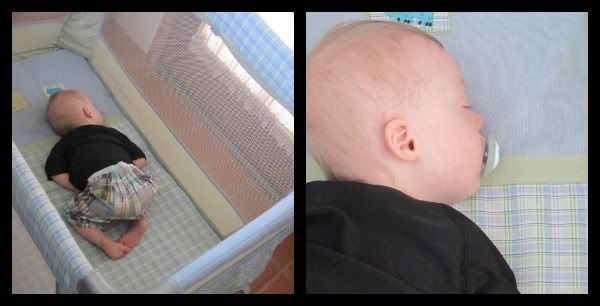 Though I was left with a halter tankini sunburn (which Charles insists is kind of sexy...in a 70's-tan-lines kind of way...) it was a refreshing and fantastic way to kick off summer. The beach temperatures were perfect- 75 and 80 degrees, respectively, and it was a welcomed escape from the searing temperatures in the valley that were tipping toward 100.
Since it was so hot in the Valley, we decided to skip town for the 4th of July weekend...to Palm Springs!! Haha....anyone who knows Palm Springs, knows to avoid it around this time of year, as the temperatures can make the valley seem like a cool breeze on an island shore. We got lucky, though. The temperatures were no higher than what we would have experienced at home, and instead of the regular drill of being at home we were spoiled by someone else doing all of the cooking (Thanks to my Foodie/Caterer friend, Larissa!!!), lingering hours in the pool and the chance to read books! I actually finished an entire book in less than 24 hours. It was
so
good--both the book (A Visit from the Goon Squad by Jennifer Egan) and the fact that I had enough time to indulge in reading something cover to cover! Charles, our friend Adam, and Christian took advantage of the golf course and set out in the golf cart for some Chip and Putt. (During which, Christian took his first solo ride in the golf cart, much to Charles and Adam's surprise...)
We fashioned a little safety situation so Elijah could sit without worry on the tile floors...no bonking the noggin with this get-up...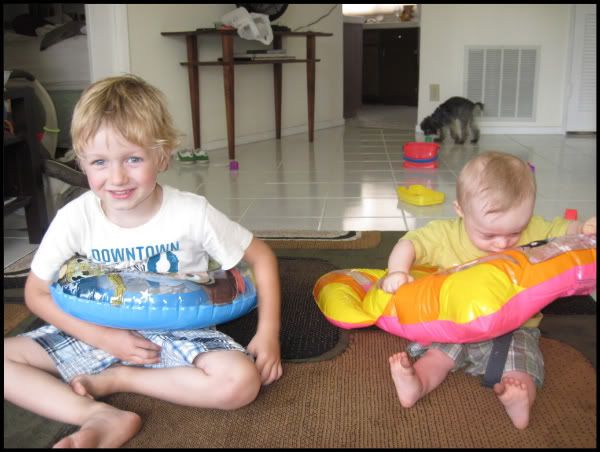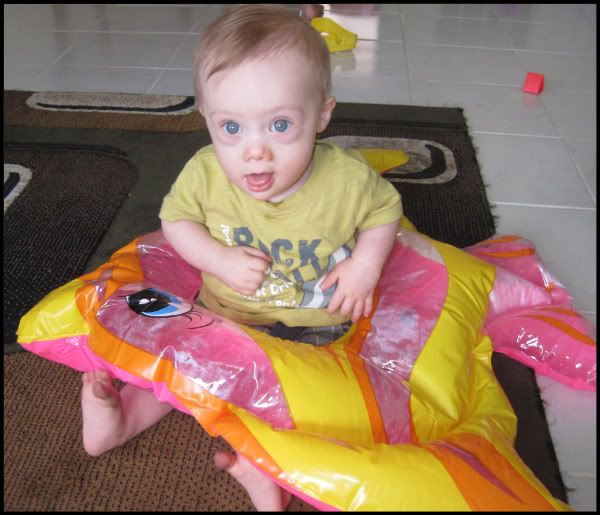 Christian was loving the water, and donned every possible floatation device at our disposal!!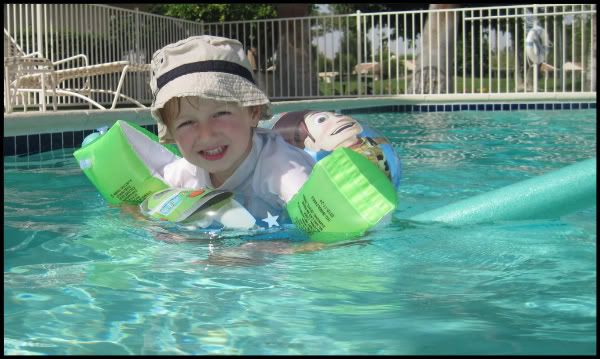 Elijah experienced the pool for the very first time. Though he looks pensive in these shots, he really seemed to enjoy it. His eyes were a little sensitive to the sunlight, so he seemed most bothered by the brightness. But he splashed and kicked with our assistance around that pool, enjoying every minute. He didn't stay in very long, as it seemed to really wear him out...and I have never seen a baby "prune up" faster in my life. Don't know if it's just his extra sensitive skin or a ramification of an additional chromosome, but he was pruned and done within 10 minutes! :)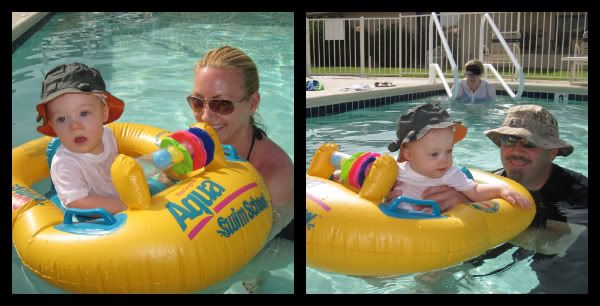 All my boys together....in their little bucket hats...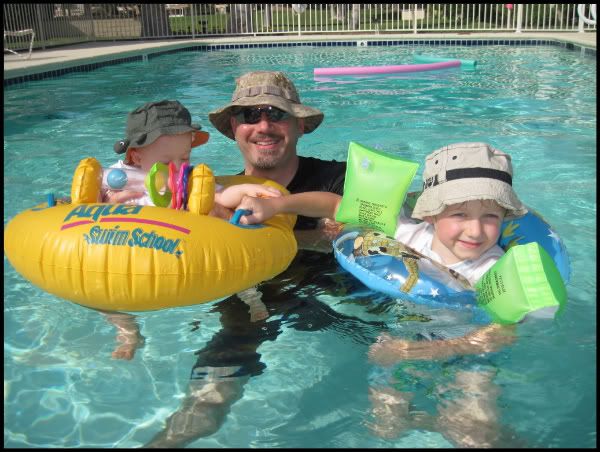 We got back home just in time for fireworks, but I was exhausted and it was Elijah's bedtime, so Charles loaded Christian into his truck and took him to the local fireworks up the street. Christian has loved fireworks every year- talks about how soon it is until we get to see them again. This year, however, he was terrified. He wanted to leave five minutes after the show started. As it turned out, he was pretty exhausted too, and I think that didn't help the fireworks experience. He was out like a light 30 seconds after Charles started the engine to bring him home.
We're back in the groove of life, but have some new goals and continued plans for sucking the life out of summer:
Goal #1: Finish Medi-Cal application! (Elijah was finally approved by our Regional Center for Medi-Cal coverage. Now I just have to fill out the 14 page document and somehow provide financial information from the cumulatively 50+ sources that Charles and I make our livings by...)
Goal #2: Get the pre-baby body back. Time to get serious about Goal # 2--40 is looming and I am over this baby bulge that has taken up residence on my abdomen! My strategy?: 5 minutes of non-stop abs a day- at least. (I used to do this regularly when I was dancing professionally...and sporting a "six-pack".) I don't need to be back at 6 pack abs, but I want the still-looking-about-4-months-pregnant-belly to be gone. Adding to my "5 minutes abs", are a few dietary changes that I'm trying out. I'm taking a few cues from "Eat Right For Your (Blood) Type)", even though I formerly scoffed at the idea of the plan. I can no longer ignore the number of people (with near perfect bodies) who rave about the results. So, I am saying a temporary goodbye to chicken and tomatoes, which are two of my favorites, but happen to be on my list of foods that are destructive to my body type. The good news is that goat cheese happens to be a desirable food for my body type--Woo Hoo! There is some hope...
Goal #3: Continue our garage and home organization efforts. We have been making progress. It sometimes seems infinitesimal, but it is happening and so we plug along...
Goal #4: Maintain a positive mental attitude...like the one that allowed me to buy a zebra print tankini online yesterday. I feel so empowered by this purchase...and yet, the reality is that I have not tried it on yet. So...if I do, and it's traumatizing, I can always send it back. There is always the "Miracle Suit", right??!
Our upcoming plans involve water playdates, our 7 year wedding anniversary date, buying a new slip and slide (And I am proud to announce the destruction of one, yellow and blue slip and slide...because one little man and one large man in my family were doin' it the way it should be done! I'm proud, in a we-are-making-no-excuses-and-using-up-life kind of way!), Girls' getaway to the Spa, more beach trips, Dance Recital, and much, much more!
I'd love to hear what fun your summer has brought you, and what's in store!!