It was a magical weekend. I'm almost too tired to write, but want to get down all of my thoughts about it too much, not to. Elijah turned
one
this last week. I really can't believe how fast this year has flown. From birth to now, Elijah has captured our hearts and challenged us to live each day as he does: happily. It's impossible not to smile around him. And he seemed to be in especially good spirits (despite no morning nap) on his Birthday party day! We threw a party...what I like to call, The Retro Comic Book Superhero party....because he is my little superhero, with his super power being his Super-Smile!
It was months of planning, weeks of preparation, and the last week of diligent focus to pull off all of the ideas that swirl through my party planner head. The toughest part about it all, was that we couldn't possibly invite everyone we would have wanted to be there. I have close friends- VERY close friends who did not receive an invite, in my efforts to keep it "Babies and their Families" only. Christian was allowed a couple of friends who do not have young siblings, but pretty much everyone else was the 18 month or younger set. Not to mention astronomical costs in doing an actual Birthday party- especially when you're someone like me, who plans and designs parties for my clients all year long. I kept this on a small budget, doing all of the work and cooking myself (with the help from a few family members and friends, of course)! There was a point where I really thought I had lost my mind and would never be able to pull this off. The morning of the birthday party came and we were miraculously (and just barely) ready. The scene was set:
There was a dessert table, with cake...
Little centerpieces that I made out of foam, covered water bottles and party favors- a bag of caramel corn for the adults and a Ka-Pow tshirt for the babies and youngest kids...
Elijah seemed to love every minute of it!
Christian was completely blissed out. He had been looking forward to it for weeks, and apparently the party did not disappoint.
I worked really hard for this party. I know that Elijah doesn't know what it's all about and will not have a memory of it later in life...or even, say, right now- 2 days later for that matter...but, it is one of the ways I show my love, and ooohhh, do I
LOVE
this baby boy.
There was a bounce house (as good, if not better than a babysitter, in my humble opinion...), a big kids table, and a hearth filled with some of the most thoughtful, generous gifts a little one year old could receive!
It was perfect. Elijah soaked up every last minute of it, as he was passed from snuggling arms to snuggling arms until he couldn't take it anymore...
We had to wake him up to sing Happy Birthday! I had wrangled with the decision of what to make Elijah for his first birthday treat. He can't eat cake yet (no teeth, choking hazard) and he doesn't really put his hands into everything to eat or make a mess, so I was wondering if it was just going to be frustrating to sit him in a chair and watch him do nothing with the food sitting in front of him. Maybe he would have done something, but I decided he's not really ready for that level of feeding right now anyway, so why force it? I sat him directly on the dessert table while we all sang a hearty rendition of Happy Birthday (with a few "Cha Cha Cha"s thrown in by my oldest west coast nephew. LOL!) instead and it worked just fine!
Elijah was so tired he could barely keep his head up, so we gave hugs and kisses and off he went for a nap while we enjoyed our guests before everyone headed home for naps for their own babies. My favorite aspect of the party was my photo corner. I covered a piece of foam core with some black and white polka dot wrapping paper and used it to back a bench in our yard. As guests came in I asked them to come over to the bench and take a picture and as a result I got beautiful pictures of so many people who were there (of course, somehow my own family is completely absent from these photos. :( No Nana, no PawPaw (he's behind the camera for half of the pictures), no sister and her family, no brother. Yikes!) Even still, I loved this aspect and am thinking about making it a standard for all of my parties (plus the polka dots carry a feeling of the retro theme, which is a cherry on top for me!!)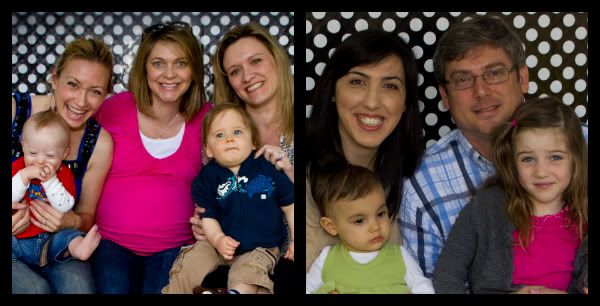 By popular demand, I have been asked to reveal what I served for food that day. It was set up entirely as a brunch: bagels, cream cheese, onions and tomatoes, homemade granola with vanilla yogurt, watermelon, strawberry and blueberry fruit salad, mimosas, juice coffee and the star of the day: the Spinach and Cheese Strata. It's a recipe that I've made before, but this time my good friend Larissa helped out in the kitchen and whipped up the batches with a few adjustments. Since I am a true believer in sharing what is good, here is the recipe (originally adapted from
Smitten Kitchen
):
Spinach and Cheese Strata
Serves 6 to 8
1 (10 ounce) package frozen spinach, thawed, squeeze of all excess liquid, and chopped
1 1/2 cups finely chopped onion (1 large)
1/2 cup chopped white button mushrooms
3 tablespoons unsalted butter
1 teaspoon salt
1/2 teaspoon black pepper
1/4 teaspoon freshly grated nutmeg
8 cups cubed French or Italian bread in 1-inch cubes (1/2 lb)- Toast in the oven on broil to make the bread more like a crouton
6 ounces coarsely grated Gruyère (2 cups)
2 ounces finely grated parmesan (1 cup)
2 3/4 cups milk
9 large eggs
2 tablespoons Dijon mustard
Toast cubed bread on a cookie sheet on broil, and turn for even toasting.
Sauté onion and mushrooms in butter in a large, heavy skillet over medium heat until soft, about 5 minutes. Add 1/2 teaspoon salt, 1/4 teaspoon pepper and nutmeg and continue cooking for one minute. Stir in spinach, remove from heat and set aside.
Spread one third of the bread cubes in a well-buttered 3-quart gratin dish or other ceramic baking dish. Top with one-half of bread cubes,one-half of spinach mixture and one-half of each cheese. Repeat layering once more with with remaining bread, spinach and cheese.
Whisk eggs, milk, mustard and remaining 1/2 teaspoon salt and 1/4 teaspoon pepper together in a large bowl and pour evenly over strata. Cover with plastic wrap and chill strata for eat least 8 hours or up to a day.
The next day, let it stand at room temperature for 30 minutes while preheating the oven to 350°F. Bake strata, uncovered, in middle of oven until puffed, golden brown, and cooked through, 45 to 55 minutes. Let stand 5 minutes before serving.
Yummy! (I'm fighting the urge not to go grab the last square of strata in my fridge, calling my name. But, alas, today 2 different people asked, "So when are you having more (babies)?" after trying to conceal a quick glance to my mid-section. It's official, this shirt is going in the trash. I mean it should not even be a Goodwill hand me down. That would just be cruel. Because, obviously it is the shirt's fault, and not my 4th extra helping of strata on Saturday...)
It was a day I will cherish forever. My baby boy may not know it now, but one day we'll look back at these pictures and he'll see the love and care I put into this day, and the memory for me will still be sweet...
There is still so much more to say...I haven't even gotten to the part about Easter or Elijah's one year well baby check-up, but I'll have to leave that as the teaser for next time. lest my exhausted, yet satisfied, eyes close on themselves...
So, it's official.
Elijah is...
ONE
.