On Sunday, we celebrated our second year of involvement with the DSALA's local "Buddy Walk", a national charity designed to raise money for awareness, education and programs for individuals and families with Down syndrome. It was a beautiful day. We met up with 23 of our friends and family members to attend the Buddy Walk this year. I had goals for this year's Buddy Walk. I was dreaming of a team of 25+, raising funds of $5000, "Elijah's Chariots" team t-shirts and a large prop chariot for the kids to ride in. Alas, my goals and plans were bigger than my reality to achieve them all. I had to make a shift in my perspective. The reality for me this year was that just around the time of the Buddy Walk, I had a wonderful explosion in my business. Since my business is part of what supports my family, I have to make it the priority, despite my best intentions to fulfill all of my other goals. I put aside the idea that I fell short of my goals, and looked to what did happen: Our team of 23 raised $2,160 and showed up with smiles on our faces this last Sunday. I owe a huge thanks to my brother, Bill, who took initiative with the fundraising and added $915 to our overall donations!! Thank you, Bill, for being a great brother, a great friend, a great Uncle and turns out...a great fundraiser!! (I never doubted that for a second!)
The vibe this year was much different than last year. I was relaxed and looking forward to spending the day with my team and seeing friends from the Ds community. Last year held a little more anxiety. It was nice to be rid of the anxiety and able to just enjoy the day!
Our Team, "Elijah's Chariots"! (Though we couldn't manage to rally every member for the group photos...)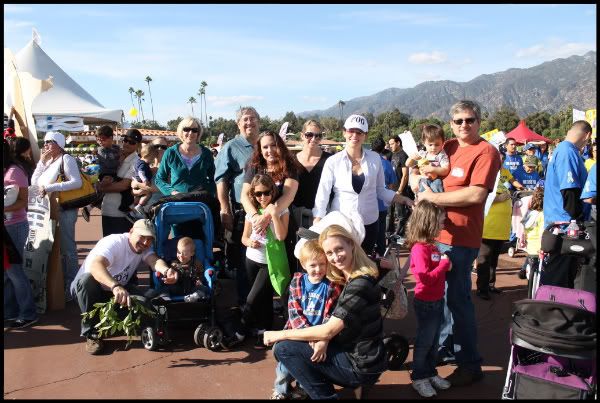 These shoes are made for walkin'...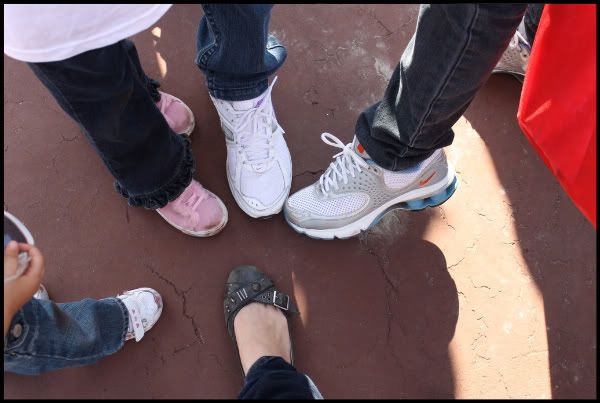 Friends (clockwise): Lori and Lila, Kathy and Maddie, My brother Bill and Elijah, Denise and Kiersten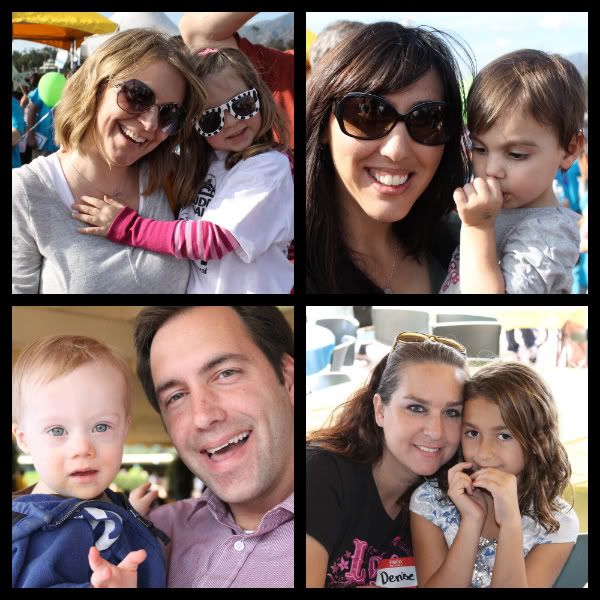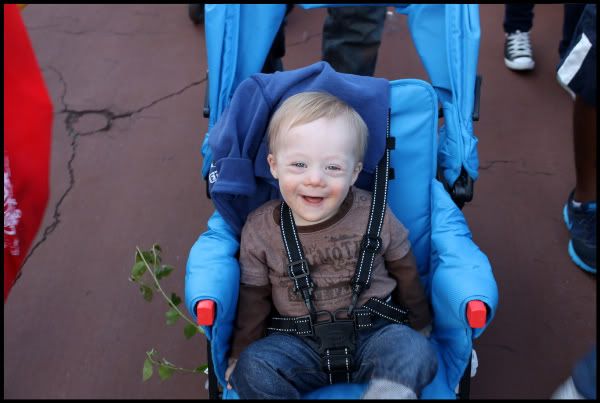 Elijah was a happy camper- great weather and a group of people who love him. What more could a little guy ask for?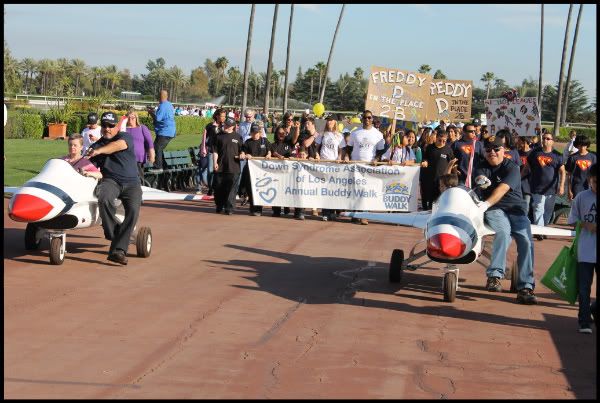 The "Walk"...which is really more like a parade. Frankly, after a busy work week, I was thankful for the short and relaxed stroll!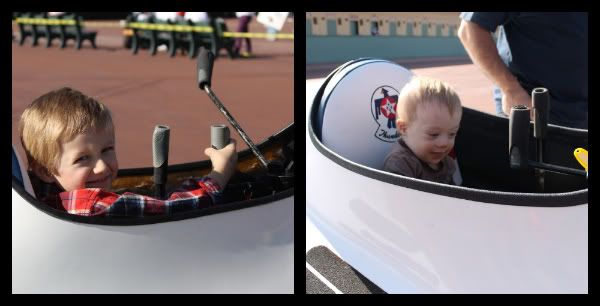 Christian and Elijah (!!) taking a little ride in the miniature jets. They both loved it!
Everyone doing the walk- including baby Della- the youngest team member!
I am so grateful to everyone who donated and supported us in the walk, and especially so to those who came out and showed up for us in person! I want to thank: My Mom and Dad, who just never hesitate to be there for us and would do anything to show their love and support for Elijah; My brother Bill, who rearranged his entire work day to be at the walk with us, helped raise almost half of the funds, and who is all around just a great guy; My best friend Denise and her daughter Kiersten who are like family to me and always find a way to make my day brighter; Kristi, my dear friend, who despite a thousand other commitments on Sunday showed up simply because I asked. She rocks.; Kathy and her family- Eric, Abby and Maddie. This time last year I was just getting to know Kathy and now she is one of my closest friends. She is true blue and never ceases to make me laugh; Lori and her daughter, Lila who I've know since our firstborns were 6 weeks old. I couldn't have made it to where I am without her support and I love her to pieces; My friend Amber, her husband Bill and their baby girl, Della who I have laughed with, cried with and prayed with. It is a blessing to have them back and living in LA again- right where I like them to be!; Judy, her husband Jason and their two little ones, Tanner and Travis. Judy and I have known each other for close to 4 years now. We bonded over trying to get the "pre-baby body back", but found substance in our friendship as life threw us challenges we weren't expecting; Last, but definitely not least
,
my hubby Charles and our babies Christian and Elijah. I never knew how full and rich my life would be before you. My heart literally hurts with love and gratitude for you all. My boys don't read yet, but one day I hope they will stumble across this blog and despite the many mistakes I'm bound to make as a Mom, will know that they are loved. Truly. Madly. Deeply.
The Buddy Walk 2011 was joyful and relaxed and infused with love. I'm not sure that can be topped.
Until next year...
When we have T-shirts.
...And a
CHARIOT
.