I'm starting to feel like me again. Maybe it sounds weird to read that, or maybe you can relate. I was me before having kids- having political views, having societal opinions, having a full time career, driving the car I wanted (well...the car I wanted within the price range I could afford...), keeping my house the way I wanted, dividing my time the way I thought it was best used, and on and on. Then I had Christian- who rocked my world in all of the best, and most confusing ways. I had never felt the degree of that kind of love before, never felt the fierceness of protection that way before, but also between nursing and sleep training...and generally
raising a child
, I felt at a little bit of a loss about who I was. I thought,
Who am I now?
I'm still all of the things I was before, but so much was changing and shifting within my situation that I was left scrambling to put my identity all the way back together. Just about the time that we got pregnant again I was starting to almost feel like me: the new me, the me that included being a Mom and all that that means, along with everything else. Then we got pregnant with Elijah. Then we got Elijah's diagnosis. And all of the work I thought I had done in trying to figure out who the re-defined me was, was all rearranged again.
Now I'm the Mother of a child with Down syndrome? How does that factor into who I am?
It's taken me a lot of processing to deal with that one, but Elijah himself has eased that transition a bit. What I know about that is this: I didn't have a child with Down syndrome because I'm damaged. I believe Elijah is in my life for a very important reason. I believe I am a Mother for a very important reason. I don't entirely know what those reasons are but I think it has something to do with
learning
. Ultimately, with all of the adjustments that come with becoming a Mom...then a second time Mom...then a second time Mom to a child with special needs, I wasn't unhappy, I just didn't feel all the way like
me
.
I have been on a special diet for the last 6 weeks. It has actually been an eye opening process. It reminded me of how disciplined I can be when I really want something. I think back to my younger self, at around age 14, when I was SO determined and disciplined to become a dancer. Nothing could derail me. I've seen glimpses of that girl in the last 6 weeks. My workouts have been varied, but consistent. My diet has been nearly by the book. I don't weigh myself, so I don't know how much I've lost, but the changes are noticeable and I've dropped a dress size. I think because I'm starting to look like the me I was before kids, I'm starting to feel a little more like the me I was before kids.
Tonight I pulled out an oldie but goodie: The living room dance. I turned up the music (on my ipod headphones. I have sleeping kids. Let's face it- I'm feeling bold, not stupid.) and let the music (The Black Keys) take over. The living room dance is about being totally free, not judging myself, and is the ultimate expression of how I'm feeling. For most of my life, I have expressed myself through dance, so to not be doing that regularly leaves me feeling...a little less me. I teach ballet, and ballet is a huge expression of a lot of things for me, but it's not the same raw, freeing feeling that I sometimes need. That's why I need the living room dance. I haven't done a living room dance in at least 6 months. But, tonight I found myself in a quiet house and with a strong urge to turn the music up and let go. Let go, I did.
This week I hosted an event conceived by my friend Lori. The suggestion was to rent one of those large, inflatable waterslides and have a Splish, Splash and...just to make it fun for the Mommies..Sangria (!) Playdate. Since these waterslides are HUGE. I was the only one with a yard big enough and durable enough to take the abuse of this kind of playdate. So, we got this:
Our "Sangria" was really just a little sparkling wine with some cranberry juice, OJ and frozen fruit in it.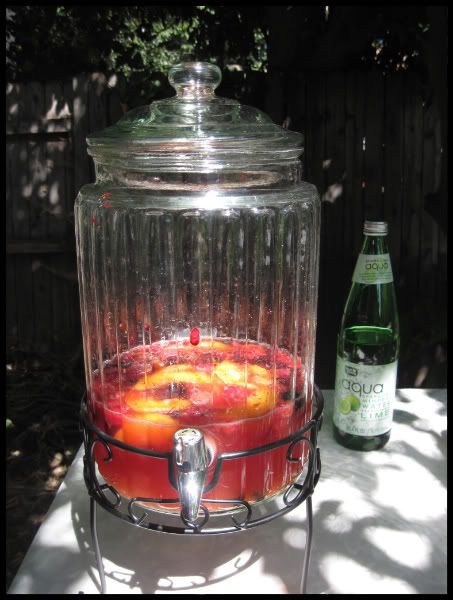 Christian had an amazing time and got bolder as the day wore on...(after a semi-traumatic incident as the waterslide/bounce house combo deflated around him because I accidentally unplugged it while he was jumping inside...this was BEFORE the sangria. I promise.)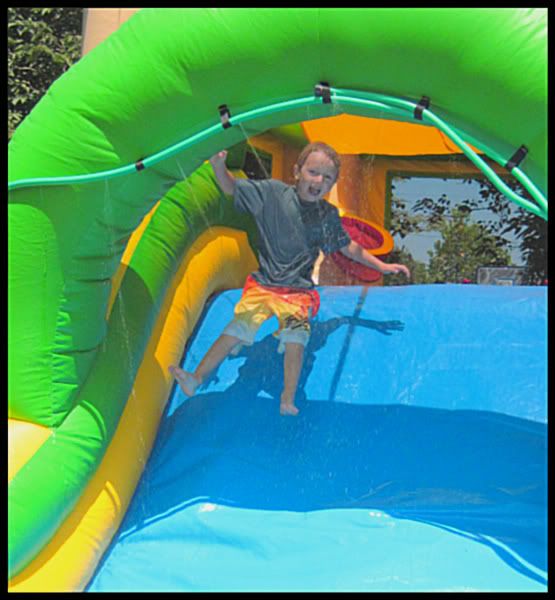 Christian gets full air...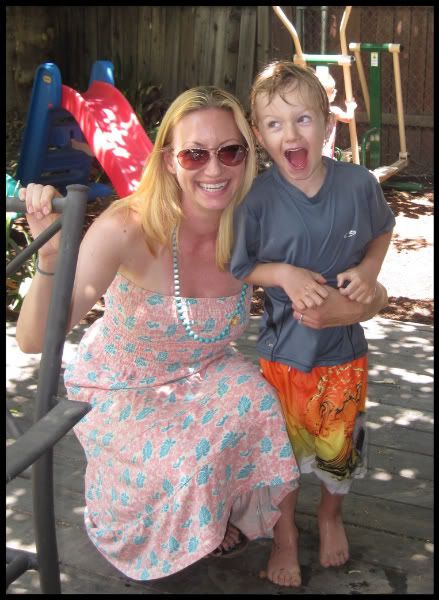 Elijah napped through the whole experience and woke up only as our last guests headed out. I decided that it's not often that you have a giant, inflatable waterslide in your backyard and that we should seize the moment and Slide. Since it was just me and my little guys, I have only this self portrait to prove that we did indeed slide. Over and over again. (Well...Elijah only slid with me once- I don't think the shock of quickly sliding down a large, unknown surface and getting spayed in the face was quite what he expected. So, Elijah hit the swing instead.)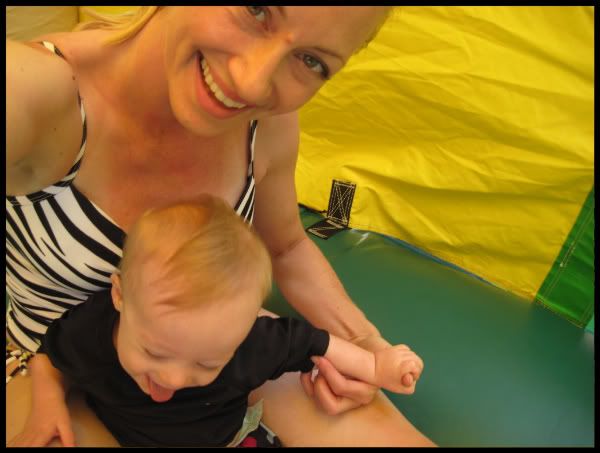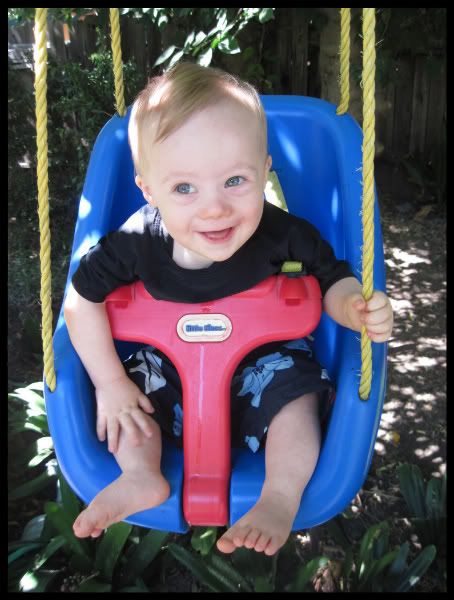 Sliding with my kids made me feel young and spontaneous (and next time we do a Splish, Splash playdate, my Mommy friends will get the peer pressure to slide.) It was uplifting. I used to consider myself spontaneous, and I'm realizing I still am. It just looks a little different. I may not be able to leave the house alone on a whim and do something crazy, because there are babysitters to plan for, time to carve out and instructions to give. But, I can say,
You know what? There is a giant waterslide in my backyard and I am All In.
I'm finally feeling like me again and realizing that I can be all of the things I was before kids and all of the things I am after kids and together they can be pretty great. Just because I'm a Mom doesn't mean I can't be back in shape, it doesn't mean I won't be spontaneous- though the circumstances may be different, it doesn't mean that I won't do the baddest, longest, sweatiest living room dance ever. I can do all of those things and it's pretty cool to be knowing that.
This is me. This is me on kids. See?...not that different.
Don't let the mini van fool you.